Big Game Watch Party
This event has passed.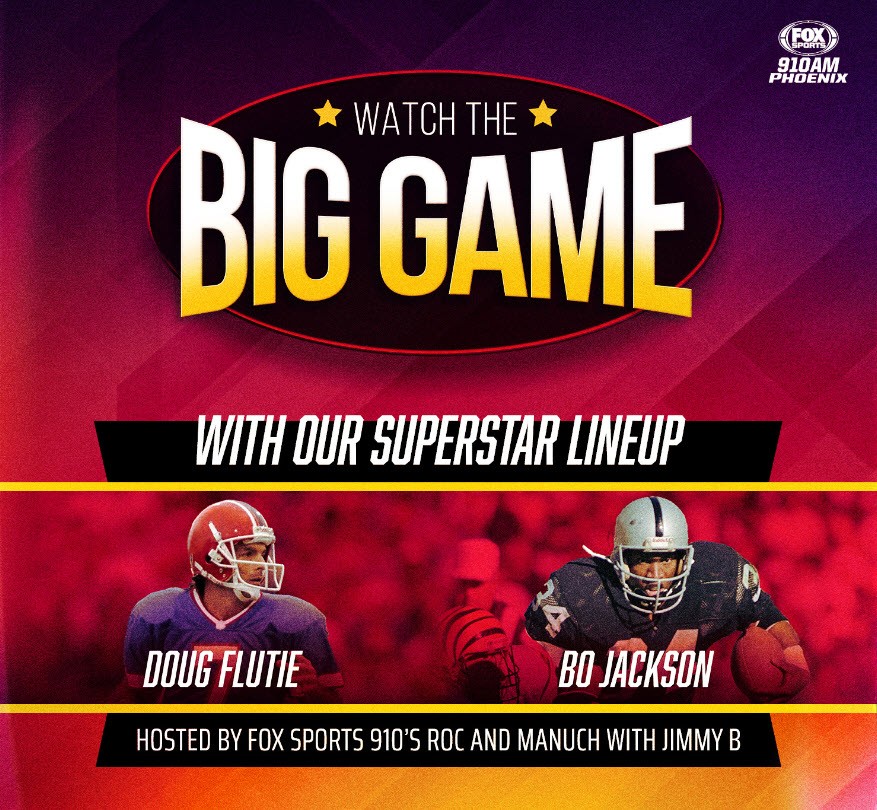 Talking Stick Resort
9800 E Talking Stick Way
480-850-7777
Sunday February 12, 2023
02:00 PM - 02:00 PM
An unrivaled experience in the Salt River Grand Ballroom
HOSTED BY FOX SPORTS 910AM'S
ROC AND MANUCH WITH JIMMY B
Doors Open at 2 pm
$25 in advance; $35 at the door
* Cost of guest wristband does NOT cover any food or beverage
EXCLUSIVE AMENITIES:
Large Screen TV's
Cash and prizes
Food and Beverage Specials (see below)
$25 Squares
Propositions
Kick-off Jackpot
24/7 sports betting kiosks
Celebrity Athlete Special Appearances
*Must be a PRC member to claim prizes and be awarded prizes. Must be 21 or older to attend. Eligibility restrictions may apply. 
Bo Jackson
Although not the first professional athlete to participate in more than one sport, when Bo Jackson decided to play both professional baseball and football concurrently, he became the most recognized person ever to do so.
In the late 1980s, all of America knew who Bo Jackson was. They knew him simply by his first name, "Bo," due to a hugely successful national advertising campaign with Nike, the "Bo Knows…" series that made his face and name common in living rooms across the country.
Jackson's speed and power on both the baseball diamond and the football field were legendary, earning him awards as well awe and respect.
Doug Flutie

Known for the famous "Hail Mary" pass against University of Miami while at Boston College, Flutie went on to play first in the United States Football League before heading to the NFL to play with the Chicago Bears and New England Patriots.
He then left the NFL for the Canadian Football League for eight years, where he was a marquee attraction, being named the league's Most Outstanding Player an unprecedented six times and winning three Grey Cup Championships.
Flutie has received many honors over his illustrious career, including All American at Boston College, 1984 College Football Player of the Year, 1984 Heisman Trophy Winner, three CFL Grey Cup championships and game MVPs, and six CFL Most Outstanding Player awards.
GAMEDAY SPREAD
Pretzel Bites | 14
Served with warm cheese sauce
Bowl of Chili |14
Served with cornbread
Nacho Station | 18
(Choose 1) Chicken Tinga Nachos, Beef Barbacoa Nachos, Grilled Vegetable Nachos
Sandwich Station | 18
AFC: Kansas City barbeque pork
tender, smoked pulled pork on a grilled ciabatta roll with jalapeno coleslaw and pickle horseradish pickles served with a bag of chips
NFC: Philly cheesesteak
tender steak grilled with sweet onions and served with cheese sauce on a hoagie roll served with a bag of chips
Pro Bowl: Grilled vegetable sandwich
Marinated and grilled portobello mushrooms, peppers, onions, spinach, goat cheese and basil pesto on herbed focaccia served with a bag of chips
Wing Station | 20
12 each bone in or 8 each boneless tenders
All served with carrots ad celery sticks.
Choice of Buffalo Sauce, Sweet Thai Chile, Bleu Cheese or Ranch
Cookies & Brownies | 5 each