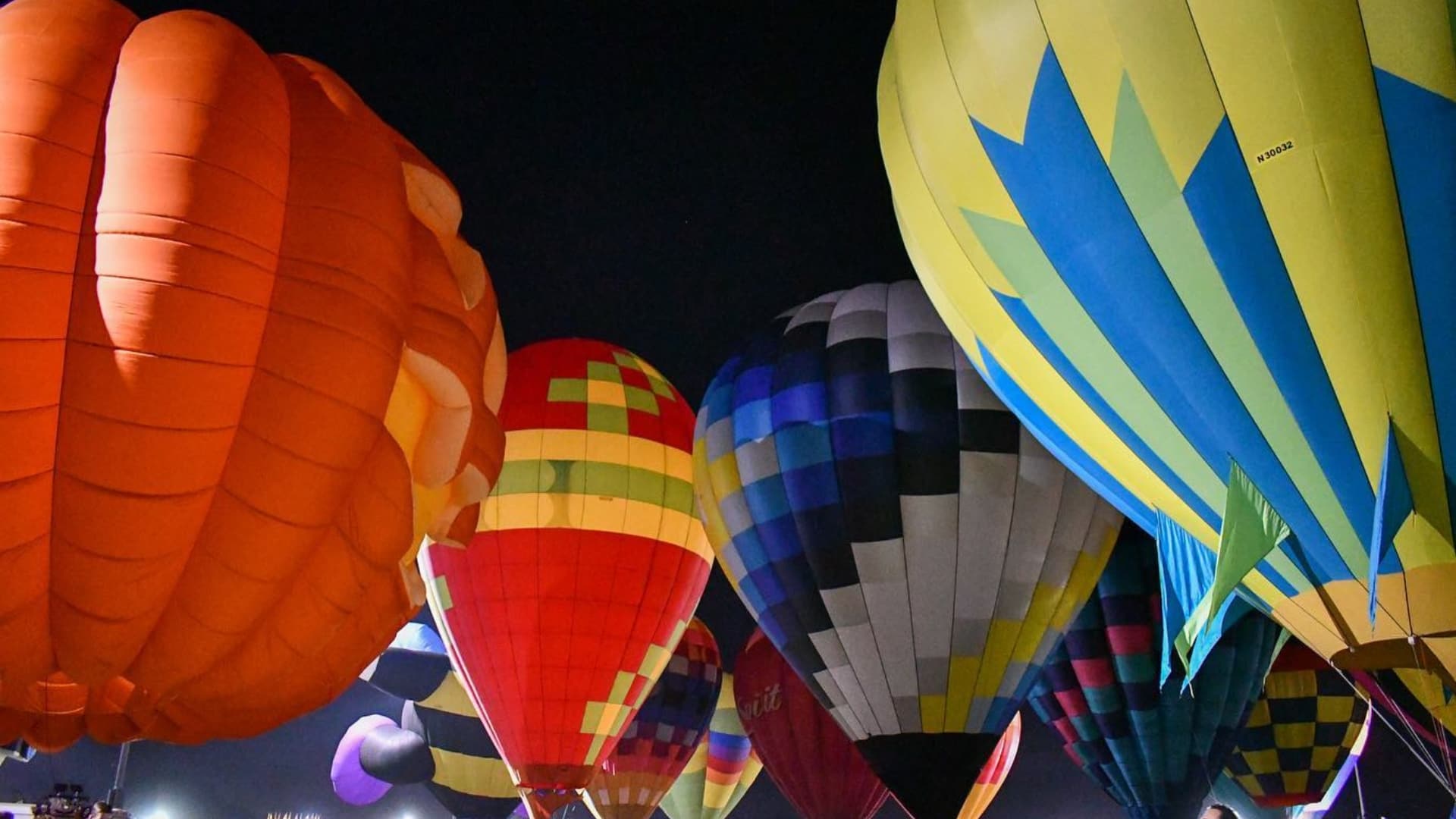 Experience the Talking Stick Entertainment District

Welcome to the Talking Stick Entertainment District, conveniently located within the Salt River Pima-Maricopa Indian Community. It is Arizona's premier entertainment destination, home to Talking Stick Resort, Arizona Boardwalk at Talking Stick, Talking Stick Golf Club, The Pavilions at Talking Stick and more! This vibrant and exciting destination offers a unique blend of dining, entertainment, and culture that are sure to make your visit unforgettable.
family fun
With a wide range of attractions specifically designed for kids and families, the Talking Stick Entertainment District is the perfect place to play. Enjoy arcade games, catch a show, or dine on delicious cuisine together.
---

The largest aquarium in the southwest, OdySea Aquarium takes you on an entertaining and educational oceanic adventure like no other. The state-of-the-art facility features an amazing array of animals including sharks, otters, sea lions, penguins, sloths and more. OdySea Aquarium will quickly become part of your "must see" list of…
vibrant Nightlife
From the gaming action at Talking Stick Resort to a world of dining and entertainment experiences, Salt River's offerings are sure to delight you. Plan for unforgettable evenings in the Talking Stick Entertainment District.
---

Mavrix, the District's newest entertainment hot spot! Mavrix is an entertainment destination featuring 22 bowling lanes, 85 arcade games, a state of the art laser tag arena, billiards tables, dozens of 4K televisions, 1,500 square feet of meeting and event space, and a 5,000-square-foot restaurant and bar featuring a chef curated…

---

Experience an evening of feasting, fighting, and fun inside our magnificent 11th century style castle. Feast on a sumptuous four-course banquet served by serfs and wenches while cheering on your brave knight to victory. Witness a spectacular performance of Medieval tournament games, authentic jousting and exciting sword fights. The Castle…

---

Topgolf is where the competition of sport meets your favorite local hangout! Stop by for casual fun or to celebrate birthday parties, bachelor/bachelorette parties, corporate events, date night, or whatever your heart desires! You can challenge your friends and family to addictive point-scoring golf games that anyone can play. Score…

---

The perfect destination for weekend getaways, resort vacations, stay-cations, business travel, entertainment and 24-7 gaming. With 496 rooms, 2 pools, spectacular views, world-class entertainment, over 100,000 sq. ft. of meeting space and a convenient location just off the 101 freeway, Talking Stick Resort is the place to turn it on!…

---

RoadHouse Cinemas is Arizona's only locally-owned and operated, dine-in movie theatre! Open 365 days a year, RoadHouse offers an extraordinary restaurant menu created by an award-winning chef and restaurateur, an impressively creative full bar featuring high quality wines and Arizona craft beers, and overwhelmingly comfortable recliners, all to be enjoyed…
exciting sports
Salt River is the ultimate destination for sports fans. From thrilling go-kart races to exciting games and events at the Salt River Fields at Talking Stick, there's something here for everyone.
---

PopStroke is an immersive golf experience with two 18-hole putting courses featuring modern design, powerful technology, and an elevated casual dining experience. Created from the vision of Tiger Woods and his TGR Design team, our putting courses are built entirely with synthetic turfs, incorporating fairways, bunkers, and rough, just as you…

---

Imagine 3D Mini Golf is Family Owned & Operated Experience the Amazement lmagine a world where one-of-a-kind hand painted 3D art looks so real playing black light mini golf that you'll feel like you're trapped in a world of fantasy while encountering dragon caves, sunken pirate ships, and unicorns! Wow!…

---

Mavrix, the District's newest entertainment hot spot! Mavrix is an entertainment destination featuring 22 bowling lanes, 85 arcade games, a state of the art laser tag arena, billiards tables, dozens of 4K televisions, 1,500 square feet of meeting and event space, and a 5,000-square-foot restaurant and bar featuring a chef curated…

---

Recognized as a top public golf course by Golfweek magazine, Talking Stick Golf Club, boasts the largest public practice facility in the valley to ensure you have the best opportunities to warm-up and practice your swing. Soft rolling landscape and breathtaking surroundings await you on the O'odham and Piipaash courses,…

---

America's Best Kart Racing! Octane Raceway features a 1/3 mile indoor/outdoor track, 45+ mph karts, Velocity VR, Axe Throwing, Brickyard Bar & Grill, arcade, and event rooms. Corporate events and private parties from 10 – 500.

---

Topgolf is where the competition of sport meets your favorite local hangout! Stop by for casual fun or to celebrate birthday parties, bachelor/bachelorette parties, corporate events, date night, or whatever your heart desires! You can challenge your friends and family to addictive point-scoring golf games that anyone can play. Score…

---

"TWO TRIBES, TWO TEAMS, ONE HOME!" Proud to be the spring training home of the Arizona Diamondbacks and Colorado Rockies, Salt River Fields at Talking Stick raises the bar for major league baseball spring training. Not only is the facility surrounded by some of the most beautiful mountain views in…
find us here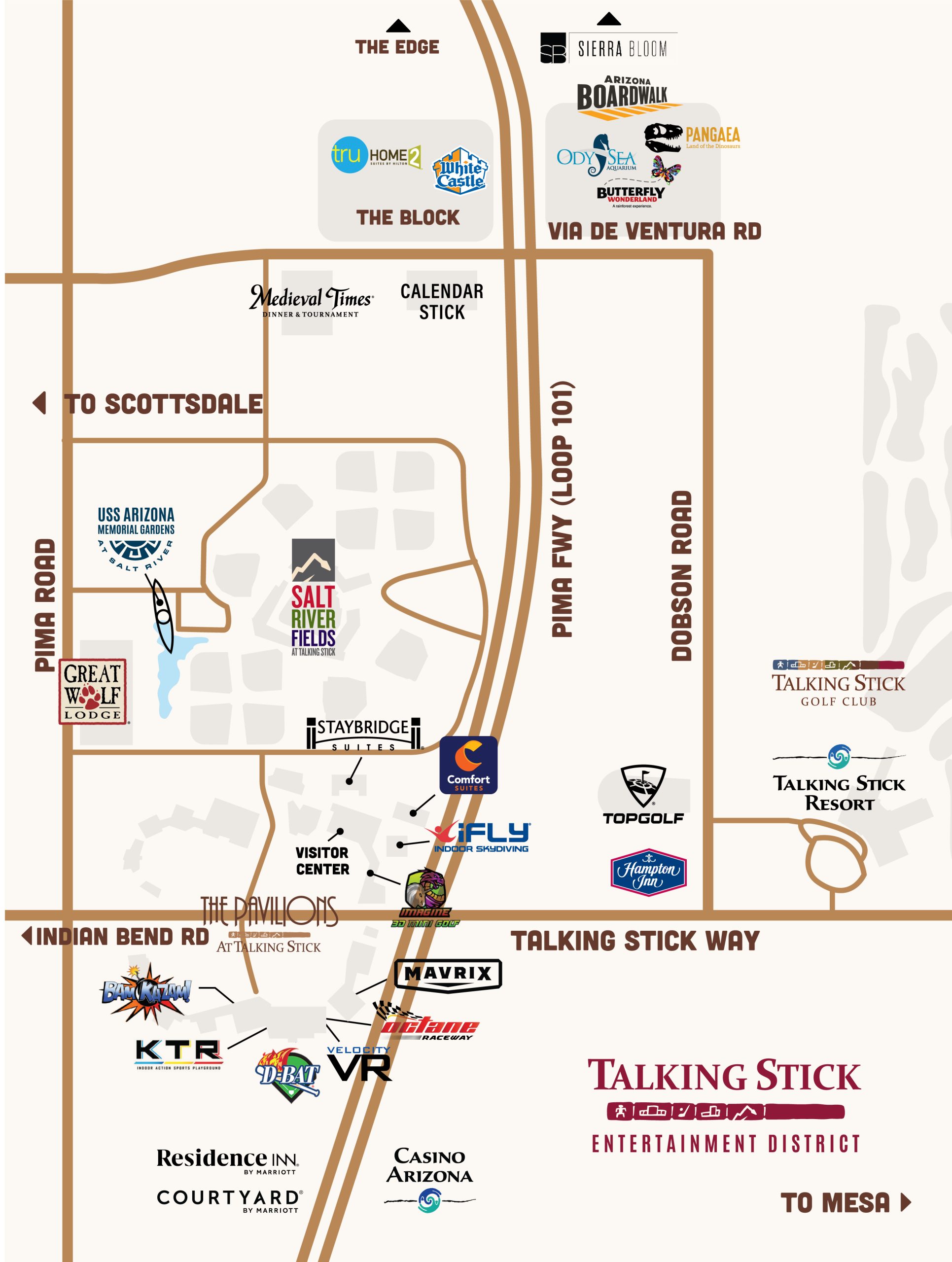 visit us
9120 E. Talking Stick Way, Suite E-10
Scottsdale, AZ 85250
CALL US
Follow Us