KMLE 8 Man Jam
This event has passed.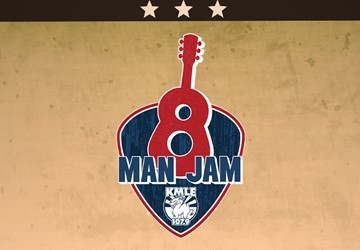 Talking Stick Resort
9800 E Talking Stick Way
480-850-7777
Wednesday July 20, 2022
07:00 PM - 10:00 PM
KMLE Country 107.9 is proud to present the 12th Annual KMLE 8 Man Jam at Talking Stick Resort
brought to you by Four Peaks Brewing Company and Larry H. Miller Toyota Peoria!
KMLE 8 Man Jam is an intimate acoustic performance where the artists and the audience come together on one special night for an unforgettable 8 Man Jam session of music, stories, and fun.
The ONLY WAY IN, is to WIN!!!!
You can tune in weekdays for your shot at tickets or enter online at KMLE1079.com. Stay tuned for ticket stops around the Valley as well. Remember, you must be 21 years of age or older to attend.
Lineup:
Russell Dickerson
Erin Kinsey
Ernest
Walker Hayes
Jon Langston
Jimmie Allen
Kassi Ashton
Matt Stell