NERVO + Party Favor
This event has passed.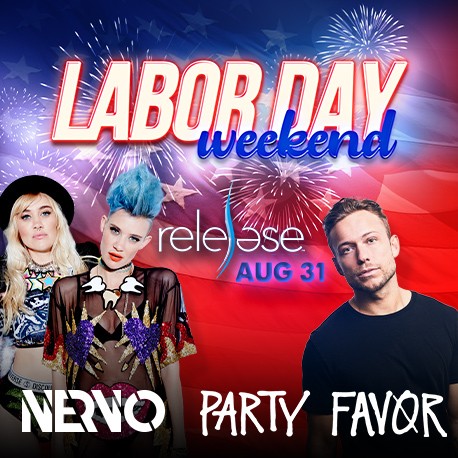 Talking Stick Resort
9800 E Talking Stick Way
480-850-7777
Saturday August 31, 2019
01:00 PM - 07:00 PM
RELEASE SEASON kicks off LABOR DAY WEEKEND with the one-two punch of NERVO + Party Favor, Saturday, August 31, 2019!
NERVO are the Australian twin-sister DJ duo known for having created epic waves all over the world, including London, Ibiza and Las Vegas. Not only has NERVO collaborated with Kylie Minogue, Ke$ha, Britney Spears, Afrojack, Steve Aoki, Miley Cyrus, and more, but they were co-writers on the Grammy Award winning single "When Love Takes Over," for David Guetta ft. Kelly Rowland.
Party Favor has already racked up a total of over 35 million streams on Spotify and 27 million plays on Soundcloud and the numbers are continuously growing. His infectious music has created massive demand across the globe, leading to consistent headlining tours around the world at some of the best and most iconic venues. His success in the states and abroad has lead to licensing deals with major companies such as; T-mobile, Mountain Dew, Truth Anti Smoking Campaign, Samsung and more. His music has also been featured in blockbuster movies such as Vacation, How To Be Single, Neighbors 2 and hit televisions shows Ballers, Silicon Valley, NCIS Los Angeles, and NBC's Superstore.
Doors open at 1pm. Call 866.877.9897 for Cabana pricing and details.