Salt & Lime Fiesta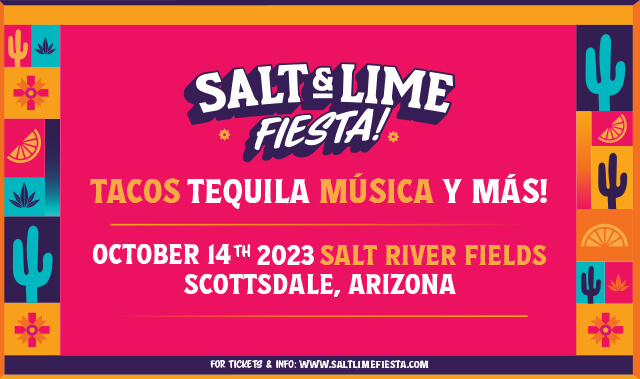 Saturday October 14, 2023
1:00 pm - 9:00 pm
Join us for Salt & Lime Fiesta 2023 as we go bigger and more delicious!
The best taco trucks and food vendors, cold cervezas, live music, exclusive experiences, lucha libre, game zones & so much more!
• Taco row
• Cold cervezas
• Food truck & vendors
• Agave experience
• Margarita experience
• Live music stage
• Fiesta bars & menu
• Mechanical bull
• Lucha libre
• Game zone
…AND SO MUCH MORE!
Tacos, Tequila, Musica y Mas! The Tastiest Festival In The Valley.
TICKET TYPES
GA INCLUDES
• GA Admission
• GA Grounds Access
• View Of Live Music Stage
• Access To Lucha Libre
• Access To Mechanical Bull
• Access To Game Zone
• Access To Fiesta Bars
• Access To Food & Non-Food Vendors
• Access To Sponsored Activations
VIP INCLUDES
• VIP Admission (Must Be 18+)
• All GA / VIP Grounds Access
• Includes Two (2) Tacos
• Includes Two (2) Drinks
• Access To VIP Lounge, Seating & Shade
• Agave Experience – Sip from more than 30+ exclusive tequilas. (Must Be 21+)
• Margarita Experience – Enjoy 6+ different top-shelf margarita samples. (Must Be 21+)
• Complimentary Lanyard
HAVE QUESTIONS? Click here FAQ page.
NEED TIXR TICKETING SUPPORT? Click here for help.
WANT TO BE A VENDOR? – We're looking for fun food or non-food vendors to join our massive lineup. Please contact us using our website vendor form on our contact page. Please allow 24-48 hours for a reply.
GENERAL TERMS – All event personnel have the right to refuse entry to any ticket holder for any reason at their discretion. Venue, talent, amenities & details are subject to change without notice and are not grounds for a refund. There are no refunds or exchanges. All sales are final. Event terms are rain or shine. By purchasing a ticket you acknowledge there is an inherent risk of exposure to COVID-19 in any public place where people are gathered. No re-entry is allowed.
REFUND POLICY – There are no refunds or exchanges. All sales are final. Event terms are rain or shine. If your event is canceled, we will refund the amount you paid for your tickets using the same payment method used for purchase. If your event is postponed, we will contact you with the new date and time.