Showtek & Gattuso
This event has passed.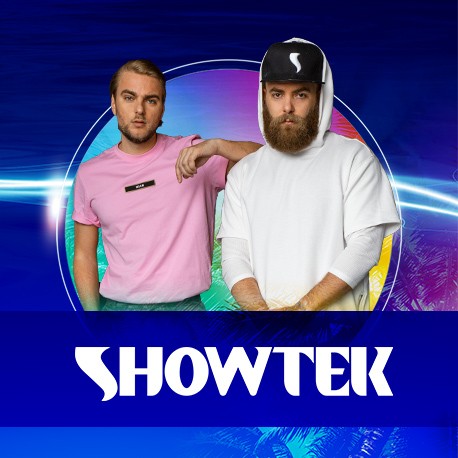 Talking Stick Resort
9800 E Talking Stick Way
480-850-7777
Saturday May 7, 2022
05:00 PM - 10:00 PM
Showtek is the globally-celebrated Dutch production duo composed of brothers Wouter Janssen and Sjoerd Janssen. They are dance music pioneers from Eindhoven, The Netherlands, and have concurred the international music industry with memorable anthems and high-energy performances. Initially, Showtek launched their career in electronic music as Hardstyle DJ/ producers with undeniable success and is recognized for producing the world's number 1 Hardstyle anthem to this date, FTS.
Today, Showtek is recognized as undisputed leaders within the electronic dance music genre, boasting platinum-selling, chart-topping singles heard around the world. Over the past years, Showtek has become more than an act. They're a movement brought together by the producer duo and their fans. United by a love for music, excitement, artistic freedom, and adventures.
Showtek's signature records such as 'Booyah', 'Cannonball' and 'We Like To Party' shaped the sound of what electronic music is today and is supported by the biggest names in the industry. 'Bad' in collaboration with David Guetta, 'Believer 'with Major Lazer, 'Rave' with Steve Aoki, and their many collaborations with Tiesto, Moby, Wyclef Jean have resulted in a multi-genre recognition by fans, music producers, DJs, and media all over the world.
Wouter and Sjoerd's passion for music transcends through their music and performances and is one of a kind. Their personal love for different styles of music and finding a way to fuse this into their own craft of productions puts a stamp on what Showtek represents. Genres are pre-determined boxes to think outside of.
New York City-based DJ, producer, and remixer GATTÜSO (Reem Taoz), has quickly made a name for himself on the global dance music scene, signing to legendary Ultra Records in 2020.
Appearing 3x's on Billboard Dance Radio chart, his songs have been streamed well over 400 million times and are regularly featured on top editorial playlists around the world.
He's well known for his smash remixes for Sam Feldt and R3HAB, whose hit "Lullaby" with Mike Williams, propelled GATTÜSO to the cover of Spotify's influential Mint playlist. His collaboration with R3HAB, "Creep," was the first official Mint Single, in the exclusive Spotify Singles series, and was featured on 40 New Music Fridays around the world. "Creep" was followed by successful 2021 releases with Steve Aoki, MKLA and Aukoustics, and DVBBS & Alida.
His Push The Reds tour stopped in over 20 cities in 2021 and he is currently a resident at Atlantic City's HQ2 nightclub, with 2022 dates throughout North America. The syndicated "Push The Reds" mix show can be heard on Insomniac Radio as well as around the world in Italy, Spain, France, the UK, Germany, Russia, and India.
GATTÜSO closed out 2021 with strong momentum, with his release on Ultra Records, "Back To Paris," on over a dozen New Music Fridays around the world. His first single of 2022, an anthemic original, "Afterglow," a collaboration with Nicky Romero and singer Jared Lee, is out now on Protocol Records and charting on dance radio nationwide.