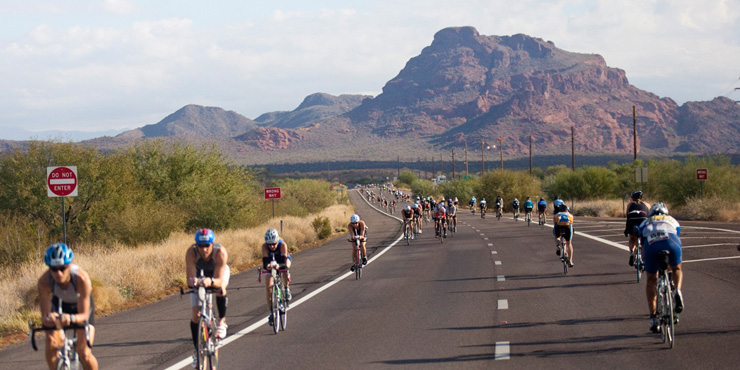 This is the Valley of the PR, where your personal record and personal getaway intersect. Tempe and the greater Phoenix area, is referred to as the Valley of the Sun for its warmth and 300+ days of sunshine. This iconic IRONMAN destination delivers an unforgettable racing experience featuring urban charm and scenic desert vistas, including a ride thru Arizona Indian Country. Those seeking speed will find it on this flat, fast and world record breaking course. Those seeking a late season race-cation will find world renowned resorts and legendary southwestern hospitality just minutes away from the race venue. Find warmth, welcome and your personal best in the Valley of the PR.
This year's IRONMAN will be on Sunday, November 19, 2023. Be advised of traffic delays and closed roads.
About this Race
Ironman Arizona is a long-distance triathlon race organized by the World Triathlon Corporation, consisting of a 2.4-mile swim, a 112-mile bicycle ride and a marathon 26.22-mile run completed in that order, a total of 140.6 miles. The inaugural IRONMAN Arizona was held on April 9, 2005, in cooperation with the City of Tempe and the Salt River Pima Maricopa Indian Community. With its fast course around Tempe Beach Park and Tempe Town Lake, and spectator-friendly atmosphere, the race quickly gained popularity. Given the desert heat, the race was moved to a much cooler November race date in 2008, where it attracts a wide range of triathletes who've had the whole summer to train.
IRONMAN Arizona kicks off with a single-loop swim in Tempe Town Lake. Followed by a challenging three-loop bike course. The race heads out of Tempe and zig-zags out to the Beeline Highway, which gradually climbs approximately 10 miles through the Salt River Indian Community to the turnaround just before Shea Boulevard. Athletes then return to Tempe Beach Park to start their second and third laps. Lastly the run course which is flat and spectator-friendly with a few small rollers, as athletes wind their way around Tempe Town Lake and through Papago Park.
Did you know?
Each year, IRONMAN has sponsored one athlete from the Salt River Pima-Maricopa Indian Community to participate in the event.
Keep up with the latest updates on Facebook.